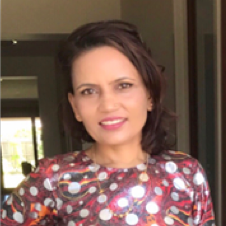 President- Founding / Executive committee of DBSV
Jamuna Parajuli | RN,MWH,MSA,PhD
Founder and President of Didi Bahini Samaj Victoria (DBSV)
Awards: Honouring Women in Moreland 2017, Multicultural Award for Excellence 2017,
Ashwarya Bidhya Padak -1998
Works for Refugees and Asylum seekers at Your Community Health
——————————————————————–
A feminist and strong advocate for women's rights and gender equality with excellence in
women's health, women empowerment and women's participation in leadership, Jamuna gives
her best-self to support women from multicultural communities. Influenced by the feminist
principle, she puts a high value on women's strength and recognises the difficulties that women
face to exceed their true potentials in their new country . Being a President of a successful,
proactive and powerful women's organisation in Victoria run by a group of amazing, talented,
multi-skilled group of women, she urges all women 'to value strength within' to take up inspired
actions. Migrated into Australia 18 years ago and mother of three kids, she continuously craving
to see the 'attitude shift' in our society to value women's abilities unconditionally.